Home → Updates → News → How to dispose of lateral flow tests, staying safe and compliant
How to dispose of lateral flow tests, staying safe and compliant
The use of workplace rapid lateral flow testing for COVID-19 is becoming increasingly common, resulting in a new waste stream of spent tests and packaging for lots of businesses. So how can you dispose of this new waste stream safely, and stay compliant?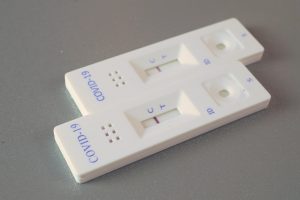 Guidance issued by DEFRA states that lateral flow testing waste does not present any increased risk compared to personal hygiene waste. 
Therefore, where lateral flow device (LFD) testing is being done as an additional function to normal business at schools and workplaces, the waste produced is not considered to be healthcare waste and can be managed alongside other wastes e.g. black bag / general waste.
Packaging from the testing kits can and should be recycled through your existing waste streams.
Any used test kits including swabs, cartridges and devices should be placed in the small bag provided with the kit and then placed in black bag / general waste bins. Along with any disposable PPE such as face covering, gloves or aprons used during the testing process.
Though it is recommended that you discuss the management of LFD test kits waste with your waste management contractor.
NOTE: SEPA have also issued similar guidance in relation to Scotland.
Disposal of LFDs from healthcare facilities and dedicated mass testing locations.
It is important to note that there is now separate guidance which is specific to registered healthcare facilities and dedicated mass testing locations.
This requires LFD testing waste and PPE from these activities to be classified as non-hazardous offensive healthcare waste, which must be segregated and coded correctly (using the correct EWC codes).
Storage must follow the health technical memoranda (HTM) 07-01 packaging guidance and should be collected as part of an existing washroom or healthcare waste collection service or separately to recyclable materials and black bag waste.
The guidance also lists the types of waste facilities that waste swabs, cartridges and devices must be taken to.
In all circumstances, all organisations must fulfil their waste management duty of care in relation to this new waste stream, which includes ensuring suitable waste documentation is completed.
See our Bitesized webinars to ensure you are using and completing your waste transfer notes correctly.