Home → Updates → News → 90% productivity boost after health and wellbeing investment
90% productivity boost after health and wellbeing investment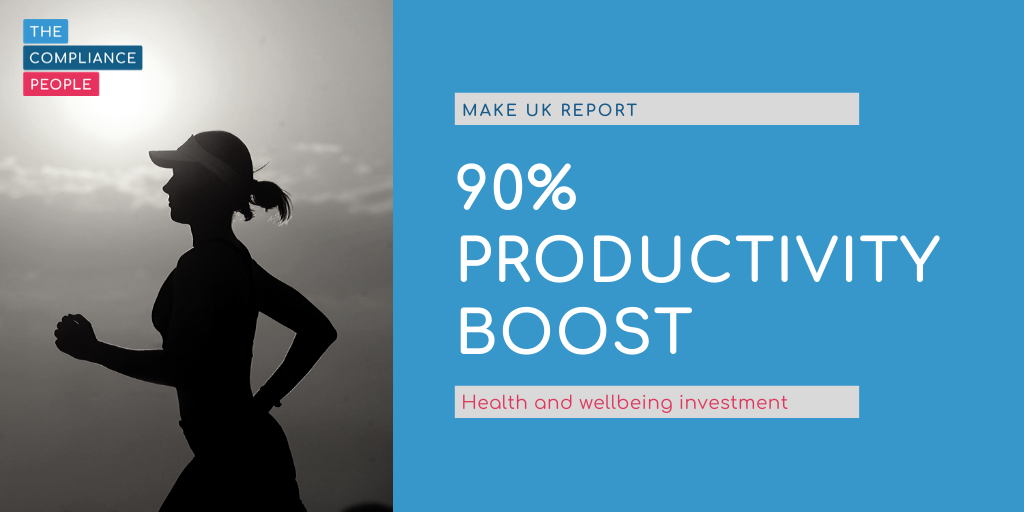 Recent investment in workforce health and wellbeing within the manufacturing industry, has led to a 90% productivity boost according to a recent report published by Make UK.
The producers of the report, Make UK, previously known as the Engineering Employers' Federation (EEF), works with UK businesses in the engineering, manufacturing and technology sectors.
A boost in productivity was experienced for the majority of manufacturers as well as improved workforce relations was attributed to an investment in people.  Manufacturers also reported a reduction in absenteeism and strengthening of staff retention as a result of spending on staff wellbeing.
Employee health and wellbeing is increasingly regarded as a core business objective within the manufacturing industry – 85% of organisations viewed the encouragement and promotion of physical and mental wellbeing as a duty of the organisation.
Implementing an effective health and wellbeing strategy results in a healthier and happier workforce, which in turn improves productivity.
Encourage your employees to:
Commute to work different ways
Take regular screen breaks

Get away from their desks for a few minutes every hour
Talk to colleagues rather than emailing them.
Take phone calls standing up

Use the stairs more frequently

This will help build up aerobic capacity and improve fitness

Hold stand-up or walking meetings

This can make meetings more creative and productive

Go outside at lunchtime

Taking a short walk boosts blood circulation and recharges mental wellbeing

Eat well

By preparing a nutritious lunch
Swap tea and coffee for water to stay hydrated