Home → Updates → News → Complying with F-gas and ODS from 1st January 2021
Complying with F-gas and ODS from 1st January 2021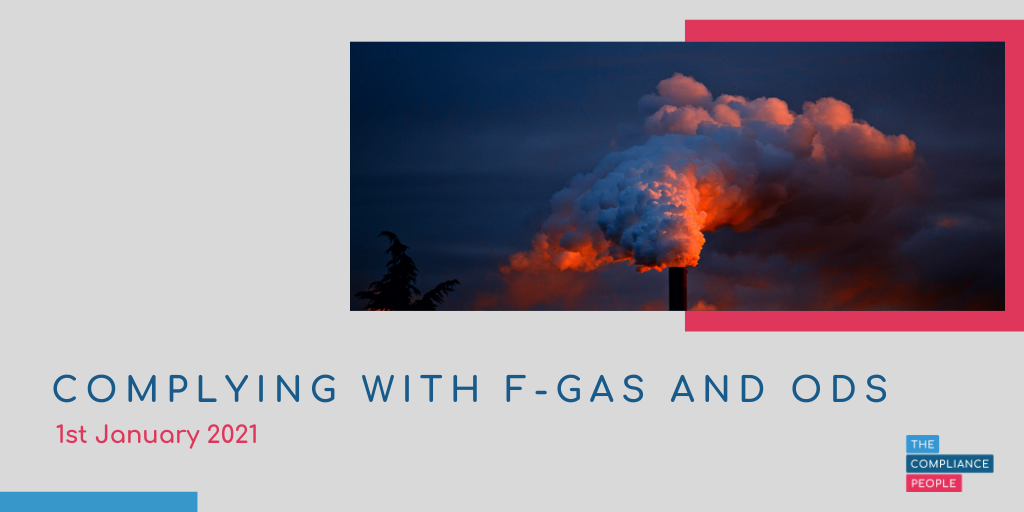 The UK Government has issued a guidance page on how to comply with fluorinated gas (F gas) and ozone-depleting substances (ODS) Regulations from the 1st January 2021.
As it stands, the guidance page reminds businesses of their duties on when to report F-gas activities and ODS activities. Although the UK has left the EU, reporting requirements have not changed and will continue as normal during the transition period.
The guidance page will be updated in the forthcoming months,this will provide more information on reporting F-gas and ODS activities. When this information becomes available, we will send out an update on what the new changes are.
Below you will find a reminder of your reporting requirements for F-gas and ODS.
Reporting your F-gas activity
You must report your F-gas activities each year if you:
Produce , import or export one of more metric tonnes of F-gas, or a quantity equivalent to 100 tonnes (or more) or carbon dioxide (CO2)
Destroy F-gas equivalent to one metric tonne, or 1,000 tonnes (or more) of CO2
Use F-gas as feedstock equivalent to 1,000 tonnes (or more) of CO2
Place pre-charged products and equipment containing the equivalent of 500 tonnes or more of CO2 on the market.
Reporting your ODS activities
You must report your ODS activities if you:
Produce, import or export ODS
Destroy ODS
Use ODS as feedstock or as a process agent
It is important to report your F-gas activities and ODS activities that occurred from 1st January 2020 to 31st December 2020, to the European Commission by the 31st March 2021.
If your organisation is affected by F-gases or ODS, it is recommended that you review and update compliance comments against the following to ensure you remain compliant and fulfill your duties:
England, Scotland, Wales
Northern Ireland
Republic of Ireland